Rev. Ryan and Emily McDermott,
Serving the Lord in Ghana, West Africa
You can listen to his presentation that he gave to the church by downloading

here.
Bio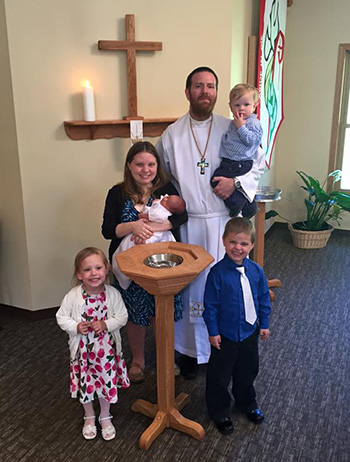 Rev. Ryan and Emily McDermott and their children
Rev. Ryan and Emily McDermott serve the Lord as career missionaries through The Lutheran Church—Missouri Synod in Ghana, West Africa. In this role, Ryan is involved with deaf ministry in Accra and helps train Ghanaian pastors (of the Evangelical Lutheran Church of Ghana) on how to accomplish deaf ministry in their congregations and communities. Through the relationships formed, Ryan and Emily seek to share the Good News of Jesus Christ with the people of Ghana.
Ryan was born in Los Angeles. His home congregation is Messiah Lutheran Church, La Crescent, Minn. He graduated from Concordia University, St. Paul, St. Paul, Minn., with a bachelor's degree in theology and world languages. He received his Master of Divinity from Concordia Theological Seminary, Fort Wayne, Ind. Before becoming a missionary, Ryan served as a pastor at St. Peter Lutheran Church, Elma, Iowa. Ryan's hobbies include reading, cooking, home brewing beer, geocaching and spending time with his family.
Emily was born in La Crosse, Wis., and her home congregation is also Messiah Lutheran Church, La Crescent, Minn. She attended the University of Minnesota, Minneapolis, where she earned a bachelor's degree in biochemistry. Emily's hobbies include knitting, reading and spending time with her family. Ryan and Emily have four children – Rhys, Evangeline, Joshua and Kaj (born May 26, 2015) – who join them on the mission field.
Prayers
Please pray for Ryan and Emily as they serve in Ghana. Pray God gives them strength and peace as they transition to life overseas, learning the culture and the language. Pray God gives Ryan and Emily wisdom and patience as they help their children adjust. Pray that the Holy Spirit leads and guides them to do the ministry work set before them with joy in the Gospel. Pray the hearts of people here in the United States are moved to pray for and to financially support the McDermotts so they can "go with" this family on this journey of faith. Let us give thanks to God that Ryan and Emily answered the call to serve in Ghana, West Africa.
Special Dates
Birthdays:

Ryan - March 2
Emily - July 29
Rhys - July 13
Evangeline - Dec. 20
Joshua - Oct. 10
Kaj - May 26

Wedding Anniversary: Aug. 4
Home District: Minnesota South
Learn More
Support Us
Giving Online: You can support this family's ministry by giving online. 
Just click the button below and complete the secure online form.
Giving by Check: You can also make a donation towards this family's ministry by check. 
Mail your check, made payable to The Lutheran Church—Missouri Synod and designated with their last name, to:
The Lutheran Church—Missouri Synod
P.O. Box 66861
St. Louis, MO 63166-6861
(Or call 
888-930-4438
 to speak with someone.)